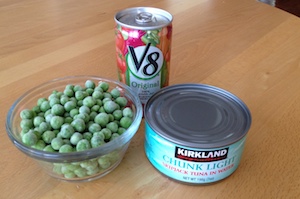 Ingredients:
4 ounces tuna
1 cup green peas
2 cups V8
Dressing: 1 T mayonnaise, 1 T yogurt, 1 T mustard
1 teaspoon Toasted Onion Bits (Penzey product)
Preparation:
Place peas in a salad bowl, flake tuna and place over peas.  Add mustard dressing, and sprinkle with onion bits.  I have this with 2 cups of tomato juice.  If you prefer to have one cup of tomato juice, add 1 cup of salad greens to the tuna/pea dish.  Of course you may choose to have another kind of cooked vegetable. I select the tomato juice to keep the lunch fast and simple.