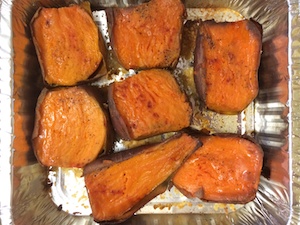 A Delicious & easy to make baked sweet potato dish
I love making this dish. It's clean, delicious and easy to make.
Ingredients:
A few sweet potatoes
Cooking oil spray
Spices (salt, pepper, nutmeg or cinnamon)
Preparation:
Wash the unpeeled sweet potatoes and boil in water until you can insert a fork. When I make them this way, it's about 15-20 minutes.
Don't let them get too soft.
Remove from the pot and let them cool for a few minutes.
Cut them in half.
Heat oven to 400 degrees.
Spray baking pans with cooking oil spray.
This is important! Weigh the boiled sweet potatoes into portions of 8 ounces each.
Place each portion in a separate pan, sprinkle with Kosher salt and spices, and spray the sweet potatoes with cooking oil spray.
Bake for 30-45 minutes until brown and crispy.
Store in separate portions.
Each portion is 1 starch.
I would love to hear your feedback on this dish.