A Self Help Guide for doing the Circle Work
How would you like to be able to do the Circle Work by yourself?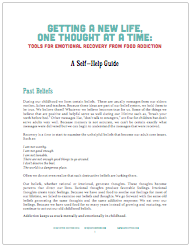 This 5-page PDF guide includes:
Notes from our "Getting a New Life, One Thought at a Time" Webinar.
A drawing of the Circle Map.
An explanation of the Circle Map.
A Worksheet Questionnaire so you can do the Circle Work by yourself.
Why It's Just $10…
We're only charging $10 for this guide, and not giving it away, for 3 reasons:
$10 puts the guide within reach of the vast majority of people.
Anyone who's not serious enough about their recovery to invest just $10 into this guide isn't going to take the time to use the Circle Map and do the work laid out in the guide anyway.
We invest a lot of time and effort into creating resources that are free for you to watch. We hope that you find the information helpful for supporting your recovery.
So if you're serious about your recovery, and if you would like to start using the Circle Map to change your thoughts, then click the "Add to Cart" button below.