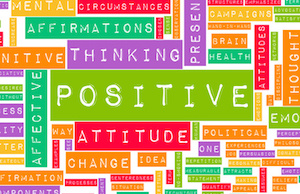 Managing our emotions is key in staying strong in our recovery. While other people might be okay taking the risk of living in negativity, we who suffer from food addiction might risk our recovery if we allow our emotions to control us.
We manage our emotions by challenging and changing our thoughts. Awareness is the first step, and then we use different tools to create thoughts and attitudes that are supportive for our recovery. We pray, we meditate and we ask God to help us change our attitude. We can also use affirmations.
Out habitual thoughts influence the quality of our lives. We are actually making affirmations all day long because everything we think and say to ourselves is an affirmation. We want to pay close attention to what we are affirming. Our thoughts have power, and they influence our environment and the people around us. And more than anything, they affect our attitude.
One of the wonderful practices I learned from Kay is using Flash Affirmations. I often play with flash affirmations with myself where I come up with new words to the phrase: "I choose…" I simply keep making up new, positive, uplifting words that make me feel better. I do it in the shower or while waiting in line. I also do it when I'm tired and feel negative in any way.
A few days ago I posted a question on our Breaking Free from Food Addiction Facebook page. The question was:
"Happy New Year! So if you were to have a recovery "theme" for the New Year, what would your word be?"
I got so excited by the words that were posted that I used all the words to create the flash affirmations below.
I choose HONESTY
I choose PEACE
I choose ENERGY
I choose ABSTINENCE
I choose WILLINGNESS
I choose POSSIBILITIES
I choose HAPPINESS
I choose SELF-LOVE
I choose HONESTY
I choose LOVE
I choose Higher Power
I choose SANITY
I choose ABSTINENCE
I choose CLARITY
I choose RESEARCH
I choose PURPOSE
I choose THRIVE
I choose ACCEPTANCE
I choose SERENITY
I choose SURRENDER
I choose COMMITMENT
I choose HOPE
I choose REBIRTH
I choose NEW
I choose MINDFULNESS
I choose LIFE
I choose GRATITUDE
I choose TRANQUILITY
I choose JOYOUS
I choose FREE
I choose RECOMMITTING
I choose BLESSED
I choose FELLOWSHIP
I choose FREEDOM
I choose SERVICE
I choose VIGILANCE
I choose GRATEFUL
I choose COMPLIANCE
Want a fun and easy way to change your attitude? Write the flash affirmations above on an index card or on your smartphone and read one (or more) daily. I hope they help you keep a positive attitude, or change your attitude if you're having a tough day. Enjoy!