This full-meal dish is very aromatic, and makes great leftovers.
Place onions, carrots, and parsnips in crock-pot.

Place chicken on top of vegetables.

Place potatoes on top of chicken.

Mix all spices in a small bowl with 2 TBS water and pour the spice mix into the crock pot.

Cook on low for 6-8 hours.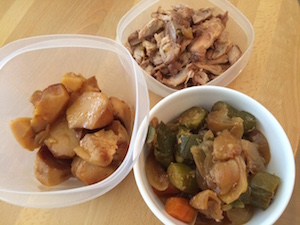 When it's ready, place the chicken in one container, the potatoes in another, and the vegetables in another separate container.
Weigh and measure according to the Food Plan.
Enjoy!