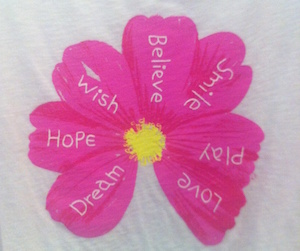 As addicts, we have some tendencies that make life hard. We tend to be perfectionists. We tend to overdo and be over the top. Some of us try to please others and we're always working to improve and get better.
How many times have you decided to make this Holiday Season the best ever?
How often do you set unrealistic expectations and find yourself disappointed with the results?
It's O.K. to want to be a better you as long as you don't set unrealistic expectations and set yourself up for failure.
Here's a fun way to remember what's important for you: choose 3 words that best describe your focus and intention and allow these words to remind you of what's important for you this holidays. Words have power.  What I've learned from putting this ritual into practice is that Intention — even in the form of a single word — is unfathomably powerful.
So how do you go about picking a word?
Sit quietly with yourself, mediate and visualize yourself happy and relaxed this Holiday Season. Ask your Higher Power to help you see what to focus on.
Read the following list of Spiritual Principles associated with the 12 Steps and add your own principles, based on your recovery experience and working with the steps.

Spiritual Principles:
Surrender, Hope, Commitment, Honesty, Acceptance, Truth, Willingness, Humility, Amendment, Vigilance, Faith, Service, and Courage & Love.

Once you've inspired yourself by adding additional words to the list of principles, think if there are any other recovery-related words you want to add and add them.
Ask yourself: what do I want to focus on this Holiday Season so I can enjoy the celebration while making recovery first? Choose your top 3 words for the season.
Write your words and hang the list in different places and stay connected with the words every day. Ask yourself every morning when you wake up: how can I practice these words today?
A few days ago I posted on our "Breaking Free from Food Addiction" FB page a post describing this practice and I asked people to share their words. Here are few examples of what people shared:
Alex: Abstinence, Thanks, Wonderous
Karen: Abstinence, Peace, Serenity
Joyce: Abstinence, God's, Grace
Elizabeth: Acceptance, Joyful, Gratitude
Sally: Sanity, Peace, Joy
Have fun, be creative and enjoy the process.
Share your words in the comments area and inspire others. Thank you for your service!