An excellent, delicious way to start your day.
Tofu doesn't have a great taste by itself, but mixing it with other ingredients gives it a yummy flavor. If you cook the quinoa in advance (I always have a big container of cooked quinoa in my fridge), it makes this an easy, complete breakfast meal.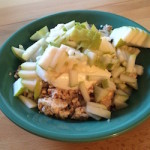 Servings
1
women's portion
Servings

1

women's portion
Servings

1

women's portion

Servings

1

women's portion
Heat and spray a pan with cooking oil.

Mash the tofu with a fork, and mix the mashed tofu and the quinoa in the pan.

Heat it while mixing it for 5 minutes until it is brown and crispy.

Add cinnamon while you're heating it.

In the meantime, weigh 6 oz. of fruit and mix it in a small bowl with 1 cup of yogurt.

Place the tofu mix on a plate and top it with the yogurt and fruit.
If you don't like to mix cold and warm food together (I love it!), then place the yogurt and the fruit next to the tofu mix instead of on top. If you are short on time in the morning and want to shorten the preparation time, mix the tofu and quinoa in a bowl the night before and leave it in the fridge. Do the same with the fruit and yogurt so it is ready in the morning.